Welcome to Life Underwater where we share our love of the awesome underwater world with you! All the footage has been taken and collected throughout the last few years on our aquatic adventures around the world. Be sure to check out our social sites at Youtube, Facebook , Twitter and Instagram as we upload new content all the time!
Meet the crew:
NJ enjoys warm water diving the most (don't we all). Born and raised in South America and warm Mexico, he fell in love with diving while living in Hawaii trying to spot 'tako' (octopus). An instructor and now living in central California, he's come to love the kelp beds and look for the critters that make their home there.  When he's not taking his camera on underwater excursions, he stays busy playing fútbol, traveling or spending time with his wahines. The America photos and videos are his.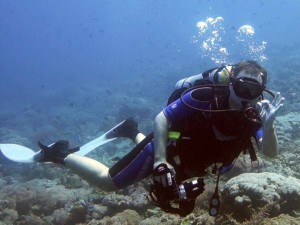 Andu grew up in Malaysia, Thailand, and the Philippines and currently works at Brent International School Manila.  He loves diving in the warm tropical waters of the  Philippine Islands and taking pictures of the incredible biodiversity found in Southeast  Asia. The Southeast Asia photos are his.
Contact us at: lifeuw@gmail.com